The best locks for your home front door in 2019
Before taking a look at the best front door locks for your home, it's important to understand the basics of how to choose a door lock.
Many blog sites out there are publishing posts about the "best door locks" but in reality are misleading their users. By encouraging consumers to buy expensive locks some of these blog owners aims to make a decent affiliate fee while the lock you end up with might be one that lacks some important security features. And although some of these locks are made by good companies they still, in many cases, aren't the best locks for your door. 
 What type of door lock, how secure the lock should be, how much you'd like to invest in it and how easy it would be to operate the lock are just a few of the things you could look into before deciding about which door lock to buy.
There are so many types of locks and such a huge variety of brands for every type of lock, it could really get quiet confusing. 
To answer the question of which front door lock you should get you'll need to ensure that your lock:
1. Is suitable for your door/needs. 
2. Provides you with decent protection.
3. Comes at a fair price
To make sure you get the 3 of these right, below we'll explore the subject into more details and provide some reliable options. 
Before we begin, have a look at your doors and see which locks they're are already fitted with. If you'd like to change your door locks, you'll need to buy similar locks to the ones you already have. If you're adding a new lock to the door, you can choose from any of the locks below (based on your requirements). 
It's also recommended that you have: 
2 locks installed on your front door.
At least 1 good lock on your back patio/French doors.
Good locking mechanisms fitted on every UPVC door. 
A reasonable lock on every bedroom door. 
The 2 locks on your front door can be a combination of different type of locks. The setup that makes the most sense for the majority of private households is to have your front door installed with at least 1 high security lock such as a 5 lever BS3621 deadlock and one night latch lock with a rim cylinder. 
The locks also need to be fitted in the right locations on the door. This will help in harnessing the strength of door to protect it against breaking while being kicked or forced in during a burglary attempt.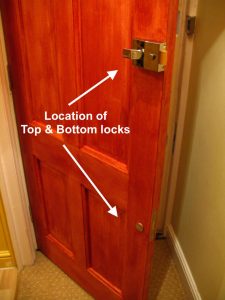 If this is your current door setup (1 x deadlock + 1 x night latch); From an experience of a locksmith for over 10 years the locks below are the recommended ones you should get.
The Best Night latch Lock
The Basic Choice
The best nightlatch set you can get for a reasonable price would be the Yale deadlocking nightlatch.
The High Security Choice 
If you'd like to invest a little more in a night latch lock you can also go for the ERA high security nightlatch
The Best 5 Lever Deadlock
The best affordable deadlock would be the Union BS3621 deadlock (i.e. also used to be know as a Chubb lock) 
There are cheaper deadlocks too, but the quality of many of these less popular brands also tends to become fault and when they do the cost of a locksmith to repair the issue when (especially if you're locked out) would be high. 
If your front door is UPVC, a wooden door with other type of locking mechanism or a composite door, you would normally need a euro cylinder. 
Make sure that the cylinder is in the right length and size for your door.
If Euro cylinder is what you need there are many types to choose from. Since most burglars will simply kick your door in and some other may snap your cylinder, the best euro cylinder lock to opt for will be one with anti-snap mechanism. If any burglar snaps the lock (which is pretty easy to do) the system in this type of cylinder will still work in preventing them from gaining access to your home.
The best quality euro lock that also come at a decent price that I've came across (over the many years working as a locksmith) is probably the Yale Anti-Snap Euro Cylinder.
The Best portable door lock
The Best Deadbolt – Locks mainly found in the USA
If you live in the united states and your door lock is an American style deadbolt the recommended choice will be the Schlage B60N 619 Single Cylinder.
or the Schlage BE365 CAM 505 Camelot Keypad Deadbolt if you'd like to upgrade for a digital keyless lock.
The Best Mechanical, Digital and Smart keyless door locks
Mechanical locks and digital door locks are both type of code locks that you can install on a front door. A digital lock can also be added with smart features that turns it into a smart lock. A smart lock can also be a locking device that locks/unlocks your door using different smart technologies (e.g. remotely by voice, via mobile app, etc.) without the need of manually dialling in a code. 
Here are some pros and cons to get a better idea of the differences between digital and mechanical locks. Also find under each category our best choice of lock to get. 
Doesn't require batteries 

Cheaper
Easy to install 
Easier to manage and control access 
Comes in many different styles 
Smooth and convenient to use 
Harder to manage and control access
Not as stylish as digital lock
Less comfortable to use
Require batteries
Fitting and setup can be difficult
More expensive
The Best mechanical lock (US)
How secure should your lock be
It's important to understand that locks can make your door secured only to some degree. If your door is made out of wood than kicking the door in is what most burglars will try on their attempt to beak in and then if the door breaks it doesn't really matter how secured is your lock. 
On the other hand, cheap locks can be easily unlocked by even an amateur burglar. 
There, you should always aim to have a good quality lock but can also save some money by avoiding buying expensive locks that doesn't make any sense. 
Why is the design of lock matters?
As with the majority of products the design of locks usually also indicates something about its quality. Examples for these are locks like the ERA high security nightlatch and Banham locks that are both fairly more expensive than standard locks but are also of the best in the market. Some locks however only looks good and cost a fortune while providing no significant benefits, so make your research and take an advice from an expert locksmith if you're going to buy a lock that haven't been mentioned here.  
Fitting and using the lock
Most locks can be easily fitted by a professional locksmith and used by any person. If you already have a lock installed on your door, there's a good chance that replacing it wouldn't require any unique skill and you might choose to change the lock by yourself. 
In the case of more complex mechanisms like multilock system, or multipoint locks for upvc doors, bear in mind that these tend to have more technical issues, are usually requiring the service of a specialist to fit/fix and hence also likely to increase your costs in the long run.
Sourcing your lock from a country overseas
Since every county has different locks you'd might also consider sourcing your lock from an overseas country.
The best locks for home front door in the uk as an instance will differ from those in the US, but some door locks that are found in the UK could also be fitted on a door in the US (especially in wooden doors).
Issues with fitting locks from one part of the world on doors in another, may arise where the door is not suitable (e.g. when the door is too thick or too thin), when you want to have a key duplicated for your lock (e.g. if you buy a lock in the UK a key cutting shop might not have the right key blank for duplicating your key) or when you want the lock to meet some specific home insurance requirements.