The 3 Best Portable Travel Door locks - Secure any door without a lock
There are some situations in life like when you're travelling, staying at an Airbnb flat, hotel room, friends house or even in a room at your own, where a portable lock could come handy. 
A portable lock can help you secure the door and windows at places you're staying in while traveling. A good portable lock would be making it difficult to anyone on the outside of your door from getting in and will be buying you enough time to take action (like calling for help).  
One thing to note about door locks in general and portable door locks in particular is that there is no guarantee of locks to prevent the access of an unwanted intruder. 
With enough brute force or locksmithing skills any lock could be defeated and any door can be broken into. 
So the main thing to take into account when looking for a portable door lock is that the lock is not an absolute barrier between you and the outside world. It's more of a security device that helps in protecting you while increasing the effort and time it takes for an unwanted guest from gaining access to where you stay. 
Now that we understand the purpose behind acquiring a portable lock, here are the best portable travellers locks currently available in the market:
1. Addalock Portable Door Lock
The Addalock is the simplest type of portable door lock you can use for locking your door instantly everywhere you go. Whether you need a portable door lock for your Airbnb / hotel room when travelling or just to improve the security of your door at home, this lock would provide a good option at a real low price. Coming at the size only slightly bigger than a keychain this door locking device is easily portable. You can take it with you just anywhere you go without worrying about it taking space.  
Easily portable – light weight and takes almost no space so you can carry it with you to literally anywhere you go.
Fits most doors – It would fit to the locking hole of almost any standard door, provided that the gap between the door and frame is wide enough. 
Good door security – In the majority of cases it would act as a reasonable door lock and help in protecting you on your stay in. 
Require space between the door and frame – If the space between the door a door frame is very tight this portable lock might not fit in. 
2. Master Lock Door Security Bar
Master Lock is one of the most known brands in the locksmithing industry. Having this portable lock made by the Master Lock firm you can be sure of a great quality product that has been tested to high quality standards. 
The 256D Door Security Bar by Master Lock is an adjustable steel bar that consist of padded base that is placed against the floor, an adjustable steel bar and a yoke at the top that is placed against the door knob. A small silver button that is integrated into the adjustable bar allows you to adjust the length of the bar so that it fits into the gap between your door floor and your door handle to keep it secured. Using a bar as a your locking device is a great way to utilize the strength of a floor and already installed appliances' to secure your door and windows. In this the Master Lock door security bar can help and therefore is a good choice as portable locking device.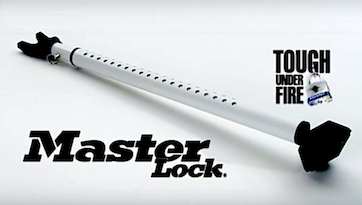 Great concept of security – Having a bar that is adjustable and can be used in a few ways to secure your door is a great idea for reaching high level of safety. 
Fits also sliding patio doors and windows – The majority of patio doors and windows these days use sliding system which means they too can be secured with a bar. Simply place the security bar between the back of a sliding door or a window and the wall to keep it shut.
Fairly portable – Although the length of the Master Lock bar is 27 inches (67 cm) it is still pretty portable and would fit to an average medium-large sized suitcase. So carrying it around when travelling is still an option.
Possible weakness of the pin – Most of the negative comments there are for this item is that the pin tends to break if the door is forced in strongly enough. 
3. Travelers Security Lock
This Travelers Security Lock is another option you'd might consider. It's a patented lock made specially for travellers. Although haven't tested it our self and that there aren't too many reviews that indicates whether it is a 100% reliable lock, there seem to be enough good opinions about it being an applicable choice. 
It looks pretty durable and the fact that it's made with aluminium is a good indication of it being lightweight and sturdy.
Easy to carry around – The Travelers Security Lock is small enough to literally fit the palm of your hand. It comes with a carrying case that allows you to easily store it in your baggage when travelling to anywhere. 
Works with almost any type of door – Suitable for both left and right handed doors. 
Relatively expensive – More expensive than the 2 other options above.