The 2 Best Vacuum Cleaners For 2019 - Corded and Cordless Options
You cannot think of a vacuum without immediately associate this home appliance essential to the iconic brand Dyson. 
Dyson makes the best vacuum cleaners in the world. After trying quiet a few vacuum cleaners as well as the Dyson's ones, we've made the choice of recommending these over others.  
Dyson is like Apple in the sense of making top quality products and innovations in their sphere. They were the first to have introduced the bagless vacuum cleaner in the world and are today the flagship brand in bagless vacuuming thanks to its incredible suction power and cyclonic technology. and the Dyson models below will perform very well on any interior surfaces at your home or car. 
If you are looking for a powerful, ergonomic and easy-to-use vacuum cleaner, the 2 Dyson vacuum cleaner models below will be an ultimate choice for the cleaning of any interior surfaces at your home and car. 
Read more to find out why… 
The Best Cordless Vacuum Cleaner
Bagless vacuum cleaner cordless Dyson V8
The Dyson V8 is the no.1 choice for a vacuum cleaner if you're looking for a cordless vacuum cleaner.
While Dyson was already on the podium of broom vacuum cleaners, V8 Absolute was lunched to offer a new "clean" emptying system and better autonomy. On paper, the V8 has it all.
As for the telescopic tube, Dyson changes the color on each new model and the V8 trades the pink tube of V6 for example against orange, which does not catch fingerprints.
Bagless vacuum cleaner cordless Dyson V8
Very powerful (21.6V).
Long life battery (Lithium).
High autonomy (40mn) – Charging time 5 hours.
Hand Vacuum Detachable – 2,63 Kg.
Its adapter for surfaces in height pivots under different angles to clean the surfaces difficult to reach.
Technical characteristics
Colours: Grey, orange and light purple
Vacuum type: Vacuum cleaner broom wireless and without bag
Autonomy: Up to 40 minutes
Power: 115 watts
Specificity of the battery: Nickel manganese battery
Dimensions: 124.3 x 25 x 21 centimeters
Weight: 2 kilograms
V8 Absolute is based on the particular architecture of the Dyson brush vacuum cleaners: the motor block, the collector and the handle are located at the top of a long, thin handle, at the end of which the accessories are connected. This offers versatility since it can be used on the ground as well as in heights or as a hand vacuum.
The machine is in a box with minimal space. Open, it reveals the vacuum cleaner and many accessories:
Wall station for reloading and storage.
63.3 cm aluminum handle, for cleaning the floor (use "vacuum cleaner").
Turbobrush for hard floors.
Turbobrush for carpets.
Mini turbobrush.
Long nozzle.
2in1 furniture brush.
Not to mention a long handle slightly coppery orange, the ideal size for floors. In two clicks, the vacuum is ready.
The Fluffy Brush is another great accessory that you get with the V8 – It is a soft brush special hard floors, which contains a soft rotating roller with nylon bristles and rows of carbon fiber filaments to pick up dust on fragile soils type parquet. This is perfect for when all of the floors at your home are tile or wooden floors.
The V8 is the perfect cordless vacuum cleaner to keep the environment at your home fresh and free of dust and other types of harmful particles.
What uses for the Dyson V8
Given the size of this vacuum cleaner broom, which is fixed to the wall on a home plate, it is probably more for small town apartments than large country houses as the main home vacuum cleaner. 
As a conclusion, this Dyson V8 vacuum cleaner it is to date one of the most powerful cordless vacuum cleaners. Thanks to it, you will be able to clean more quickly while enjoying results of a much higher quality than you could get with a traditional device. Even if its price is higher than the average, it is nonetheless justified as the ultimate cordless  vacuum cleaner for your home. 
The Best Cordless Vacuum Cleaner
Bagless vacuum cleaner Dyson DC33C Origin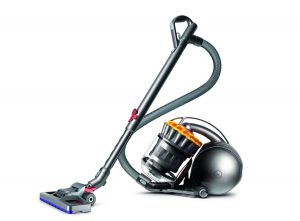 This bagless vacuum cleaner model is extremely robust and is capable of cleaning any type of floor: hard floors (tiles, parquet) and carpets, it will leave a shiny soil after its passage. It also offers an unbeatable price / quality ratio because it is one of the cheapest Dyson bagless vacuum cleaners on the market.
The Dyson DC33C vacuum is very handy thanks to the Ball technology it uses, and the device will follow you in all your movements in the home without harm. And like with all Dyson Vacuum cleaners the Dyson DC33C is designed to last.
A solid vacuum cleaner for long-term use
The Dyson DC33C Origin bagless vacuum cleaner is a product that benefits from a 5 year warranty. This argument of weight is therefore quite convincing as regards the strength, reliability and service life of this appliance. In addition, by analyzing the body of this vacuum cleaner, we noticed during our test, that this model is very robust and is able to thoroughly clean all kinds of floors: tiles, floors, carpets … but not only. Protective covers and fabrics can be aspirated as well. Thanks to the brush of this vacuum cleaner, the access in the most difficult corners is very simple and fast.
A highly technological product
On this model, the sign Dyson thought of everything! Indeed, the brand has introduced, on this bagless vacuum cleaner, two technologies: Ball and Radial Root Cyclone technology. The first, allows you to get around all the obstacles in your home simply and quickly. Moreover, during each passage, the vacuum cleaner follows you without any difficulty. Radial Root Cyclone technology has been a great help in our household. Indeed, it sucks all the dust, even the microscopic one. Nothing has resisted us.
Light and easy to use
The bagless vacuum cleaner Dyson DC33C Origin is a product that benefits from a total weight of 7.3 kg. To make life easier for all users, a long handle is available and wide transport wheels ensure easy and effortless driving. The handle, adjustable in several positions, was a great help during "sessions manage". Everyone was able to take advantage of Dyson's know-how to suck up the interior from top to bottom. Once the household is finished, the dust collector, with a total capacity of 2 liters, can be removed and emptied with a small button.
Accessories suitable for all types of floors
With this vacuum cleaner various accessories are provided: a small nozzle and a combined accessory. All allow achieving a perfect household. Adapted to delicate and fragile soils, the cleaning of these soils can be done very smoothly. A dual position brush with suction control is also included with this model. Thanks to these rigid hairs, the most stubborn tasks (mud …) can be sucked in a snap of a finger. Finally, on the telescopic tube, an accessory holder can be accommodated, on which can be fixed a small nozzle and a 2-in-1 accessory.
These Dyson vacuum cleaners will simply change your life!
They have an extraordinary performance that allows you to overcome the toughest tasks. Its suction capabilities are also excellent and its various accessories are suitable for all types of floors. The technologies combined in the Dyson's vacuum cleaners guarantees a perfect cleaning and greatly facilitate everyday life!